Interns
Tarraqi I Foundation encourages and welcomes internships. There are many ways in which Interns can contribute their energy, ideas, skills and knowledge to make an impact: developing and strengthening the management processes/advocacy-marketing/ social media outreach; participating in community mobilisation efforts; facilitating and/or organising educational events & workshops; supporting media/policy outreach and advocacy; teaching and mentoring students and much more. Our Interns fuel our projects with their passion, energy and fresh perspectives.
It was a great experience at the center as the center was full of energy. The zeal in each student to learn and in the facilitators to teach them, and help them, motivated me to give my inputs to the center as much as I could during the period. I was happy watching the students at the center learn what is being taught and helping them learn new things which they may require. I felt proud of what I was doing during that period. I would love to be a part of the organization and do my part whenever possible. - Eshan Verma (MBA Student, Christ University) Intern at Tarraqi SMART Centre, Daryaganj, New Delhi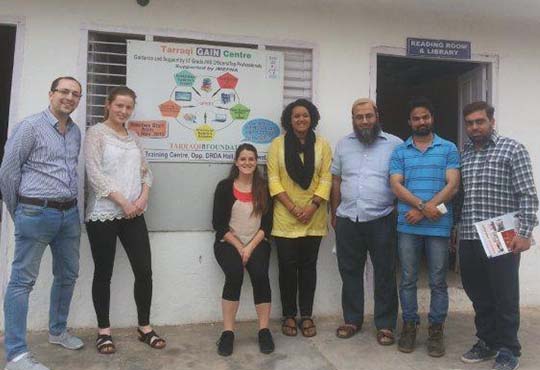 Research Scholars, University of Newcastle, UK at Tarraqi GAIN Centre, Nuh, Haryana
Mentors
We call our teachers 'Mentors' as they not just teach, but also guide, coach and inspire our students to strive towards excellence. Our Mentors receive regular capacity building and training sessions from a network of dynamic trainers and experts. Empathy, creativity, and an understanding of student-centred teaching and learning approaches is key to being a TiF Mentor. We are always looking out for passionate learners and changemakers. You could be teaching or interested to teach any subject or level from K-12. We also invite Life Skills & Vocational/ Employability Skills trainers who wish to share their skills and knowledge on a wider scale with less privileged students.
Staff Positions
TiF is built of professionals coming from different walks of life, united by their vision for change and progress. Our office staff, be it at the head office or at our different centres, is committed to ensuring sound planning and smooth implementation of our projects.
Openings at TiF
English Trainer, Tarraqi SMART Centre TSC English Trainer
Subject Teachers, Tarraqi GAIN Centre TGC Subject Teachers